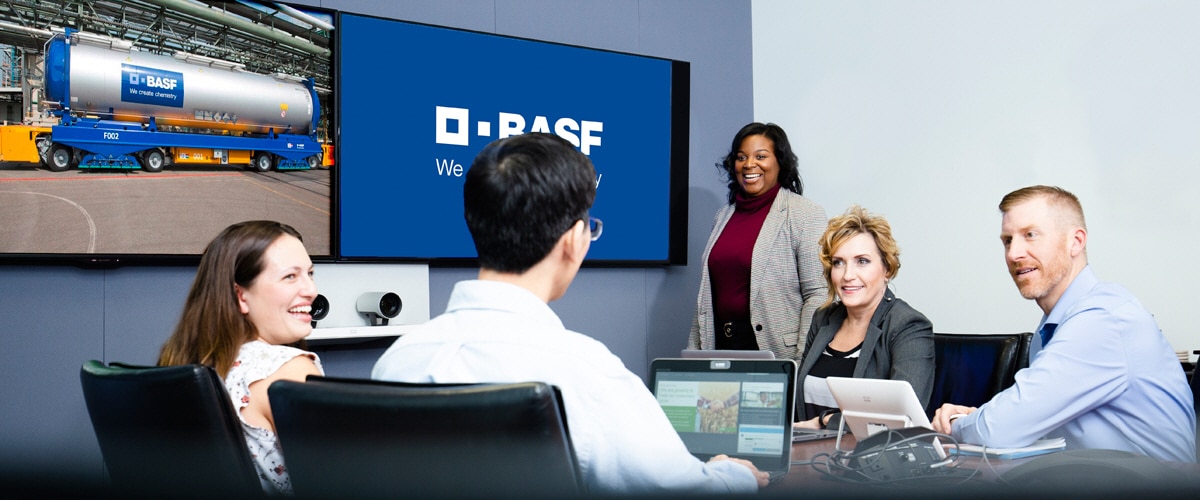 Global Customer Insights Excellence Leader - Remote
We are an equal opportunity employer and all qualified applicants will receive consideration for employment without regard to race, age, citizenship, color, religion, sex, marital status, national origin, disability status, gender identity or expression, protected veteran status, or any other characteristic protected by law.

Description

At BASF, we create chemistry through the power of connected minds. By balancing economic success with environmental protection and social responsibility, we are building a more sustainable future through chemistry. As the world's leading chemical company, we help our customers in nearly every industry meet the current and future needs of society through science and innovation.

We provide a challenging and rewarding work environment with a strong emphasis on process safety, as well as the safety of our employees and the communities we operate in and are always working to form the best team—especially from within, through an emphasis on lifelong learning and development. And we are constantly striving to become an even better place to work. BASF has been recognized by Forbes Magazine as one of America's Best Large Employers in 2021. Come join us on our journey to create solutions for a sustainable future! Global Customer Insights Excellence Leader (2103768) – Remote Where the Chemistry Happens As the Global Customer Insights Excellence Leader in the Agricultural Solutions division, you will stand up and lead a new customer insight community with the common purpose of democratizing customer insights into all areas of AP and building a deeper understanding of customers to innovate and deliver even more value. You facilitate knowledge sharing and insight generation so that we locally deliver value even more uniquely for customers, helping farmers and our channel partners feel more confident in their decisions, and successful in their operations. In this role, you can expect to:
Champion the vision for how the Agricultural Solutions business becomes a customer focused, insight-driven organization in partnership with the leadership team and the customer insight community.
Guide the insight community to develop insight generation skillsets and processes effective at applying intelligence to the most important business topics.
Be a strategic partner with executive and global teams, applying your problem-solving expertise to identify customer insights needed to inform priority business topics, with special attention to topics that cross regions.
Partner with insight community and the digital factory to ensure data organization requirements are in place to enable translation into intelligence and ultimately insights and recommendations.
Elevate local best practices, bringing awareness and supporting scale to achieve common global practices that respect local differences
Define and lead the implementation of processes and toolsets needed to scale and share information to generate customer insights.
Strengthen a 'need to share' mindset that builds a deep understanding of customers.
Formula for Success
You will be accountable as AP process owner for the AP Customer insights approach, developing and advancing the the customer insights excellence roadmap, and partnering with stakeholders regionally and in SBUs to achieve the AP Customer Insights Excellence vision.
You will apply your deep experienced-based knowledge of a wide variety of qualitative and quantitative methods to define Customer Experience research, Voice of Customer, and Customer Experience measurement approaches.
You will leverage your community leadership experience to lead the AP Customer Insights Community; partner with and coach them to develop community of insight creators and curators; inspire growth where needed to achieve vision, identify focus areas to mature capabilities, and provide common logic solutions to develop capabilities.
You will use your deep research expertise to develop a research-driven knowledge base of the customer journey by customer segment & crop system and partnership with the digital factory to drive harmonized aggregation of data and information across diverse regional landscape to develop unified view of customer insights by journey & market archetype and achieve scale.
You will use your portfolio management expertise to maintain a continuously prioritized pipeline view of customer research, VoC and analytics in broad collaboration with regional & global stakeholders.
Bachelor's degree (Behavioral Science, Human Factors, Marketing, Consumer Research, Statistics) or Advanced Related Degree (MS or PhD) is a plus
Experience standing up an insight function with proven leadership, influence, and collaboration in a matrixed organization
10+ years relevant professional experience which would include developing end-to end customer strategies, innovation management, customer, market & competitive intelligence
5+ years of core customer experience related competencies including journey mapping, ecosystem mapping, human-centered design 10+ years relevant professional experience which would include developing end-to-end customer strategies, innovation management, customer, market & competitive intelligence
5+ years of experience with data analysis/ insight visualization to enable decision making
Knowledgeable of BASF and/or Ag Solutions organization, business and markets preferred
Demonstrated expertise using agile methodologies to prioritize, size and value work preferred
Experiences in one or more of the following areas: management consulting, change management, professional development, adapting enterprise solutions for local needs, agricultural or another highly regulated industry preferred
A vibrant and engaging storyteller, with strong data interpretation skills that can adapt effectively with a large organization, leadership team, and individuals
Technical Skills / Methodologies Required:
Expert Creative Problem-Solving methodologies to inform innovation / design sessions i.e., design thinking, cognitive re-framing, ideation, etc.
Expert Qualitative & Quantitative customer research methodologies to inform innovation & portfolio management and business decisions including. i.e., Ethnography, Observational research, interviews, focus groups, Survey Design, Segmentation, Persona Development, Jobs/Journey Mapping, Value Stream, Ecosystem Mapping, Blue Ocean, Strategy Gaming, etc.
Sound Voice of Customer methodologies to inform experience innovation, design & improvement. i.e., Relationship, Transactional, Digital interaction behavioral and perception driven feedback, Usability Testing, A/B Testing, Social sentiment, advisory groups & forums, etc.
Sound Customer Experience Measurement methodologies to inform longitudinal assessment and predictive analysis i.e., Operational, Perception, Behavior measures
Sound Advanced Analytical & Statistical methodologies
Create Your Own Chemistry: What We Offer You Adding value to our customers begins with adding value to you. You@BASF is the suite of benefits, perks, programs and unique opportunities we offer to support you—the whole you—in all stages of your life and career. With you@BASF, you create your own chemistry. The total rewards that you receive as a BASF employee go way beyond a paycheck. From competitive health and insurance plans, to robust retirement benefits that include company-matching contributions, to making sure you never stop learning, we believe investing in you is investing in our success. Working for a large, global organization, you'll have a chance to grow professionally and personally, expand your network and build a rewarding and dynamic career. BASF provides interesting and challenging learning and development opportunities to help you make the most of your talents and your job.
A unique total offer: you@BASF
At BASF you get more than just compensation. Our total offer includes a wide range of elements you need to be your best in every stage of your life. That's what we call you@BASF. Click here to learn more.
A unique total offer: you@BASF
At BASF you get more than just compensation. Our total offer includes a wide range of elements you need to be your best in every stage of your life. That's what we call you@BASF. Click here to learn more.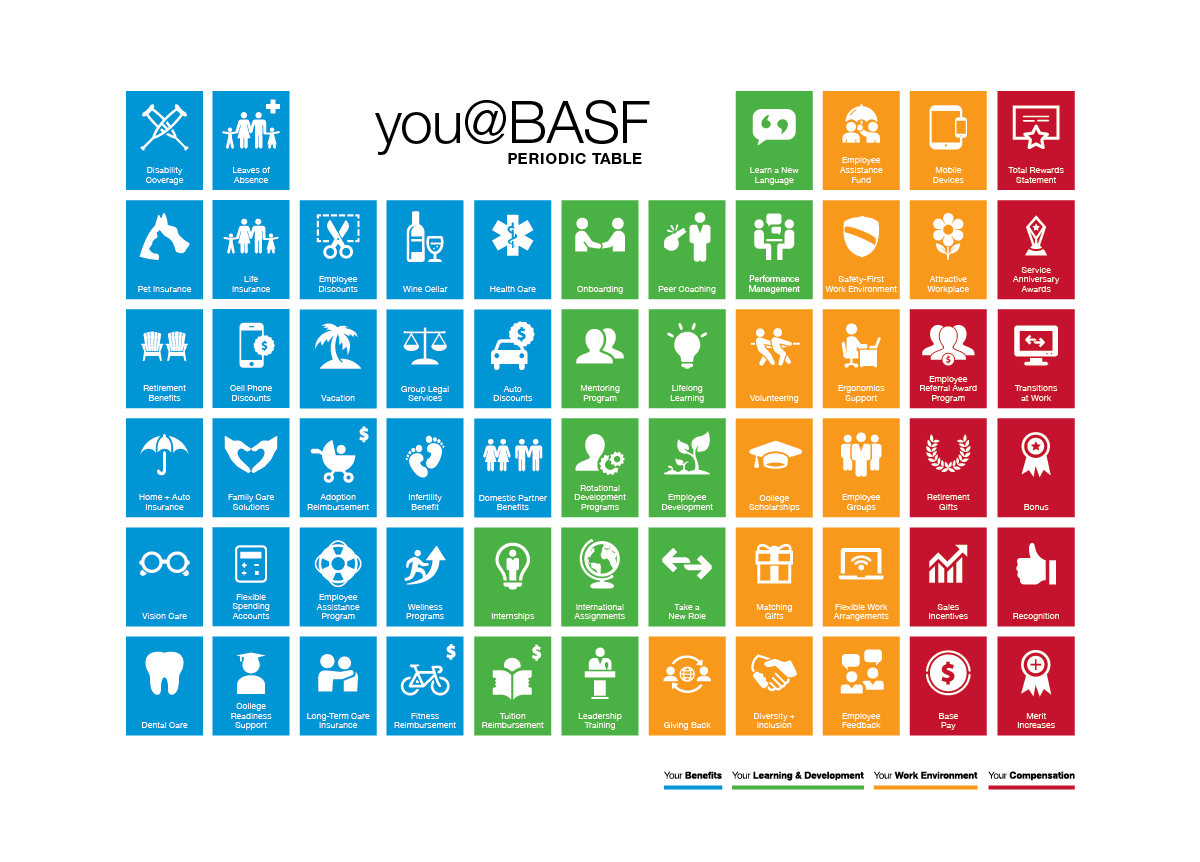 At BASF, we believe that people are the key to our long-term success and that talent is in everyone.
We thrive on giving you the support you need to be your best and fulfil personal ambitions…that's how we create chemistry. #belongatBASF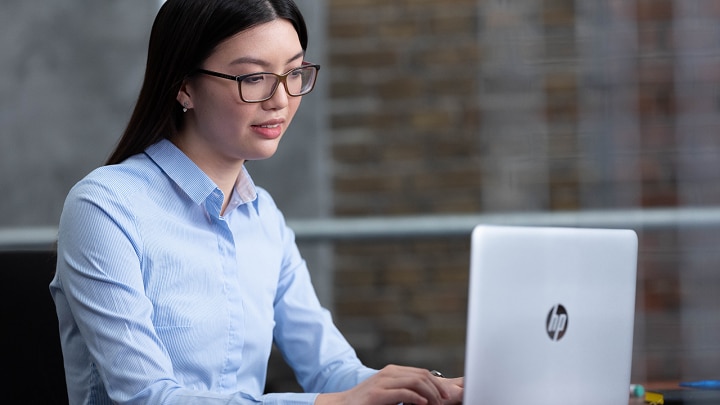 Your application
Here you find anything you need to know about your application and the application process.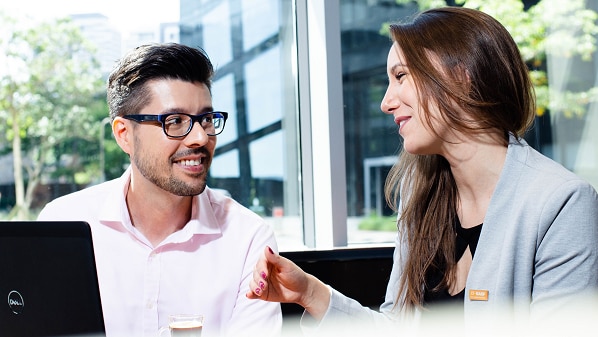 Contact us
You have questions about your application or on how to apply in Europe? The BASF Talent Acquisition Europe team is glad to assist you.
Please note that we do not return paper applications including folders. Please submit copies only and no original documents.

Nearest Major Market: Durham
Nearest Secondary Market: Raleigh