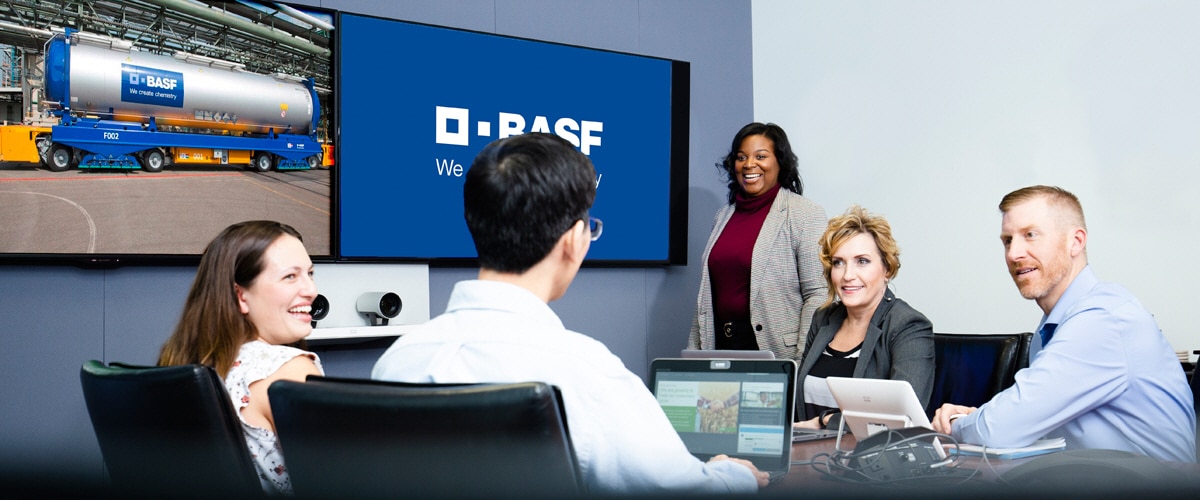 Sales and Marketing Campaign Manager
You can be part of an inclusive team of diverse talent and character. In this diversity lies our greatest strength.

Description

At BASF, we create chemistry through the power of connected minds. By balancing economic success with environmental protection and social responsibility, we are building a more sustainable future through chemistry. As the world's leading chemical company, we help our customers in nearly every industry meet the current and future needs of society through science and innovation.

We provide a challenging and rewarding work environment with a strong emphasis on process safety, as well as the safety of our employees and the communities we operate in and are always working to form the best team—especially from within, through an emphasis on lifelong learning and development. And we are constantly striving to become an even better place to work. BASF has been recognized as one of Canada's Best 100 Employers in 2021 and was honored as one of Canada's Safest Employers Award. Come join us on our journey to create solutions for a sustainable future! Retail Connect Campaign Manager Where the Chemistry Happens The Retail Connect Marketing Manager position, within the Agricultural Division, offers a unique opportunity for a professional to combine their respective Account Management, Finance & logistics, crop protection product knowledge background to promote the industry leading innovation coupled with superior distribution services to the retail partners of BASF within the independent sales channel of Western Canada. The Retail Connect Marketing Manager is accountable of developing retail programs, new business opportunities, and by leading overall process and system improvement projects to maximize sales. Core Responsibilities: Finance
Design and reconcile general Retail Connect and customized retail programs for selected key customers to optimize customer relationships, sales and profitability potential.
Develop, manage and improve key Retail Connect processes such as account reconciliation process while ensuring to stay within the approved program budgets.
Develop Retail Connect budget to achieve profit margins and programming objectives while in line with overall profitability strategy.
Analyze market trends, competitors and develop product forecasts.
Logistics
Manage Retail Connect process, tools and sales developments.
Strategic Account Management
Develop Retail Connect Strategy including Key customer strategies.
Co-ordinate the collection and analysis of sales data specific to key customers for purposes of market share, grower segmentation, target lists and retail trends to aid Retail Connect Representatives in their strategic account management objectives.
Responsible to advertising, communication, management of the Retail Brand within the industry
Innovation & Product Line Knowledge
Technically competent on the innovative BASF brands with the ability to understand & educate retailers on the use of new innovations and product features.
Technically competent with a working knowledge of competitive brands and ability to present the value proposition of BASF brands in comparison to these competitive products.
Qualifications
Formula for Success:
BA/BS in business, agriculture business or related discipline, required.
Minimum 5 years of experience with relevant sales or distribution experience, required
2-3 years Marketing experience within Western Canadian ag chemical industry, preferred.
A strong business acumen and demonstrated understanding of the agricultural market, specifically the relationship of the independent distribution with the retail partner within this market is required for the position.
Demonstrated understanding of the retail partner network, and their business cycles, competitive relationships and environment.
Incumbent must possess proven analytical skills, excellent communications and interpersonal skills, as well as be highly motivated and goal oriented, with a proven record of goal attainment.
Ability for strategic thinking and planning skills required to insure overall independent distribution sales channel strategy can be accomplished by the Retail Connect Marketing Manager and their approach.
Ability to self-manage time and resources and to allocate time and energy appropriately, resulting in achievement of goals.
Excellent computer skills, with proficiency in Word, Excel and PowerPoint.
Willingness to embrace BASF CRM Systems.
Willingness to travel overnight/weekly.
Passionate about making a difference in the agriculture industry.
Create Your Own Chemistry: What We Offer You Adding value to our customers begins with adding value to you. You@BASF is the suite of benefits, perks, programs and unique opportunities we offer to support you—the whole you—in all stages of your life and career. With you@BASF, you create your own chemistry. The total rewards that you receive as a BASF employee go way beyond a paycheck. From competitive health and insurance plans, to robust retirement benefits that include company-matching contributions, to making sure you never stop learning, we believe investing in you is investing in our success. Working for a large, global organization, you'll have a chance to grow professionally and personally, expand your network and build a rewarding and dynamic career. BASF provides interesting and challenging learning and development opportunities to help you make the most of your talents and your job.
A unique total offer: you@BASF
At BASF you get more than just compensation. Our total offer includes a wide range of elements you need to be your best in every stage of your life. That's what we call you@BASF. Click here to learn more.
A unique total offer: you@BASF
At BASF you get more than just compensation. Our total offer includes a wide range of elements you need to be your best in every stage of your life. That's what we call you@BASF. Click here to learn more.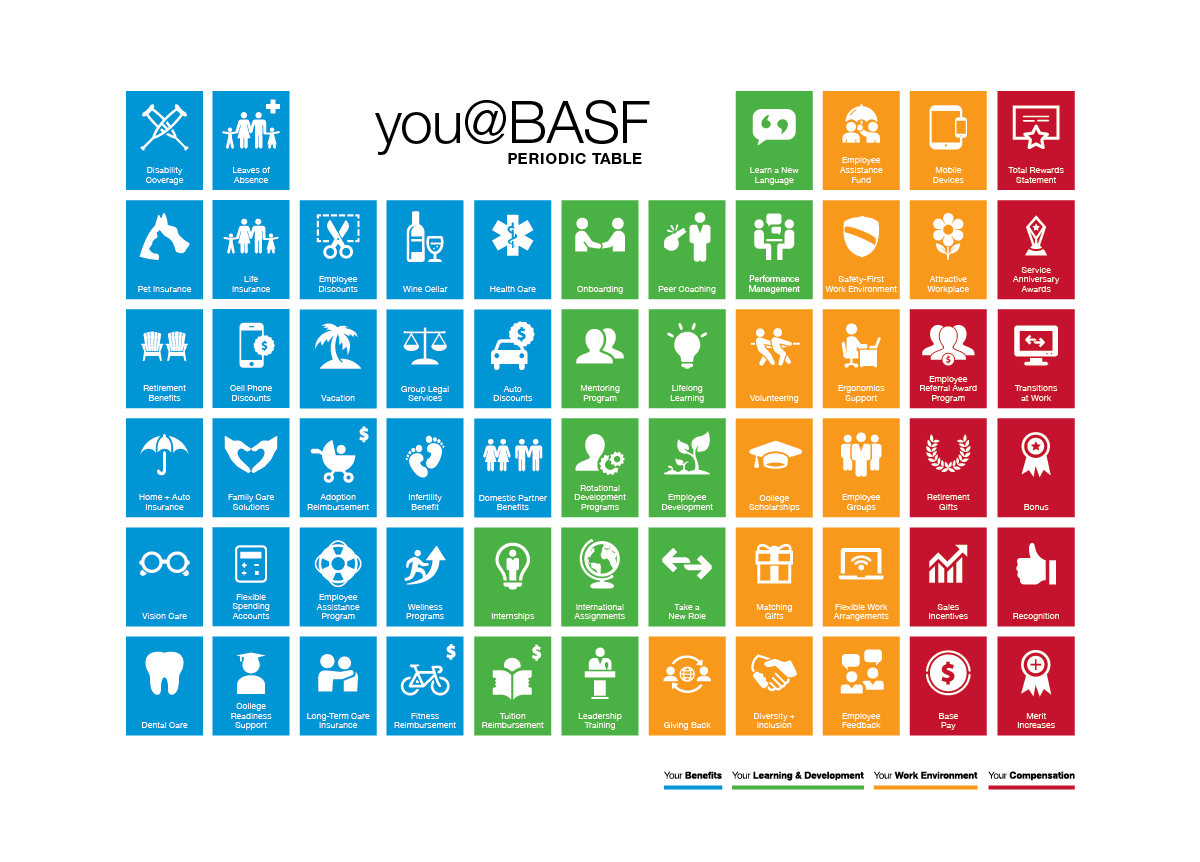 At BASF, we believe that people are the key to our long-term success and that talent is in everyone.
We thrive on giving you the support you need to be your best and fulfil personal ambitions…that's how we create chemistry. #belongatBASF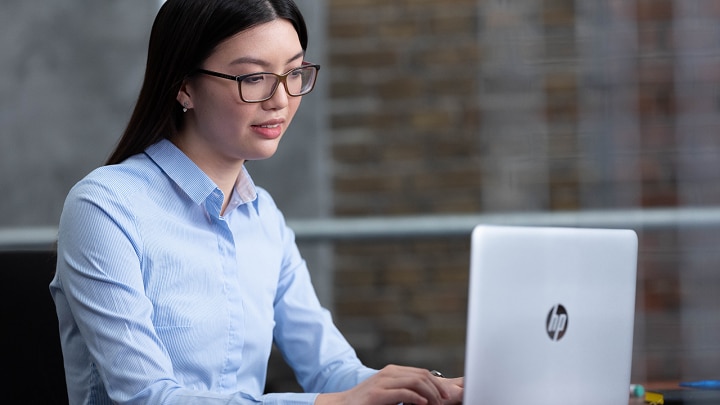 Your application
Here you find anything you need to know about your application and the application process.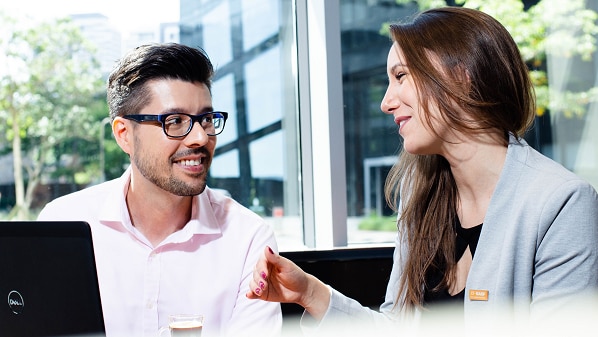 Contact us
You have questions about your application or on how to apply in Europe? The BASF Talent Acquisition Europe team is glad to assist you.
Please note that we do not return paper applications including folders. Please submit copies only and no original documents.