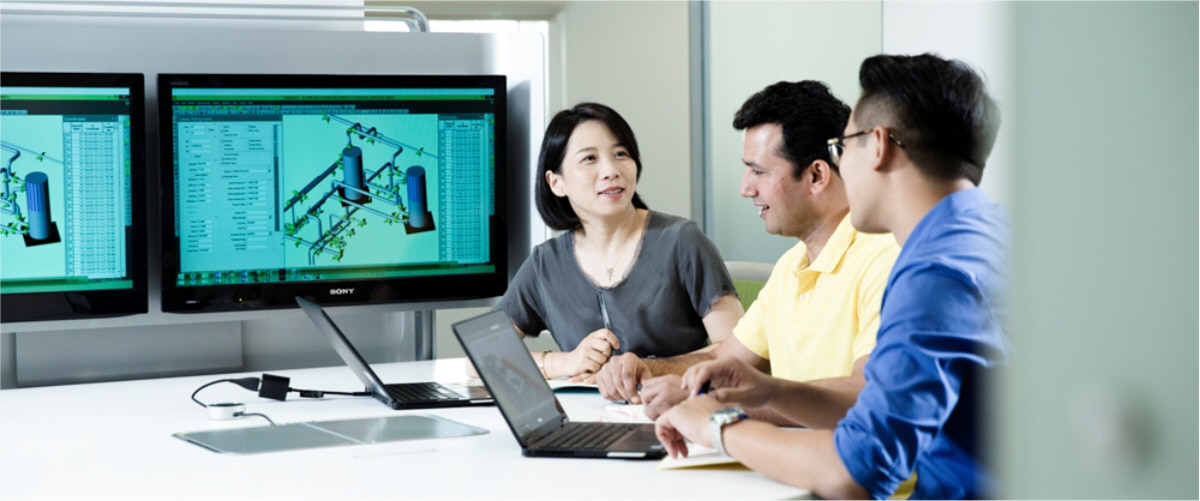 Senior Functional Consultant – SAP APO
We are a leading chemical company, with the best teams developing intelligent solutions for our customers and for a sustainable future. Our success as a company relies on the engagement of our employees. We encourage our employees to develop their strengths, and we recognize their achievements. For you, this means a wide variety of job roles, and exciting opportunities for learning and career development.
Description
Do you want to work with passionate teams, providing excellent business and digital services to the Asia Pacific region?
Do you want an open, supportive, and caring working environment?
Do you view your development needs seriously as we do?
If YES, then take your career to the #NextLevel with BASF !
Objectives of the Position
Digitalization will be a true part of BASF's DNA that creates new exciting customer experiences and business growth as well as drives efficiencies in processes. This is our digital VISION for BASF.
Global Digital Services (GDS) is supporting BASF business in Digitalization transformation. Our MISSION is to drive forward the digital transformation of BASF, providing innovative, global and high-quality digital products and services through a strong agile culture.
Part of the GDS strategy, BASF Shared Services Center Kuala Lumpur (BSSCKL) is one of the established Digital Hub for APAC region.
Order Management Solutions creates, delivers and runs digital applications for users managing sales & distribution activities in the movement of goods between BASF divisions and end-customers. Working agilely, we enable functionality of core systems & processes. We partner and consult with stakeholders to innovate solutions proactively across multiple technology platforms to anticipate future needs.
The DevOps Engineer will be part of a team that is end-to-end accountable for IT solutions for the availability check in SAP (ATP). The ATP team is ensuring that customer requirements are understood, analysed and translated to IT products in an agile fashion using the KANBAN framework. The team is responsible for development and operations of the respective SAP application. The senior DevOps engineer will be part of the KANBAN development team and work on backlog items in a self-organized way.
Main Tasks
Consultation of BASF internal customers on ATP topics
Design, configure and run complex applications in the area of SAP ECC ATP and APO gATP (incl. product allocation)
Design of possible technical solutions for subject-specific business requirements in coordination with other DevOps engineers and internal business partners within BASF.
Collaboration with internal BASF customers and external partners
Implementation through customizing in SAP and other relevant digital applications.
Support during change requests / projects, which comprises efforts estimation and design of solution. Thereafter, proceed and ensure further development, evolution, and optimization.
Design and implementation of prototypes using SAP and non-SAP technologies.
Active participation in Kanban events, proactive, self-organized pulling of tasks from an agile backlog.
Support of the BASF Digital roadmap, helping GDS to identify, execute and implement customer-centric digital solutions in an actionable and measurable way.
Requirements
Education
Degree in Computer Science, informatics, business informatics or in a comparable field
Required skills / experience
Minimum 4-6 years related working experience with complex SAP applications.
Functional knowledge of ATP processes.
Good knowledge of ATP customizing in R/3 and APO.
Functional knowledge of SAP SD (Sales & Distribution)
Strong Digital mindset to accelerate BASF Digitalization transformation journey
Agile mindset, self-organized way of working.
Working in an international environment, very good English language skills
Desired skills / experience
Experience with ABAP, ABAP OO (able to debug)
Experience with agile frameworks like Scrum or Kanban
Knowledge of SAP SD customizing
Experience with S/4 HANA
Basic knowledge of a ATP in S/4 HANA.
BASF regional service hub has been established since 2005 in Kuala Lumpur. The regional service hub has approximately 700 employees and growing. Focused on being a competency and digitalization driven hub, it also provides quality functional and know-how services in the areas of finance, controlling, human resources, real estate and facilities management, communications, environmental, health and safety, procurement, import-export order management, and information services to BASF companies and affiliates in the Asia Pacific region. BASF also has two other regional hubs located in Berlin, Germany, and Montevideo, Uruguay that cover the Europe and Americas regions.
At BASF, we create chemistry for a sustainable future. We combine economic success with environmental protection and social responsibility. More than 110,000 employees in the BASF Group contribute to the success of our customers in nearly all sectors and almost every country in the world. Our portfolio is organized into six segments: Chemicals, Materials, Industrial Solutions, Surface Technologies, Nutrition & Care and Agricultural Solutions. BASF generated sales of €59 billion in 2020. Further information at www.basf.com.
A unique total offer: you@BASF
At BASF you get more than just compensation. Our total offer includes a wide range of elements you need to be your best in every stage of your life. That's what we call you@BASF. Click here to learn more.
A unique total offer: you@BASF
At BASF you get more than just compensation. Our total offer includes a wide range of elements you need to be your best in every stage of your life. That's what we call you@BASF. Click here to learn more.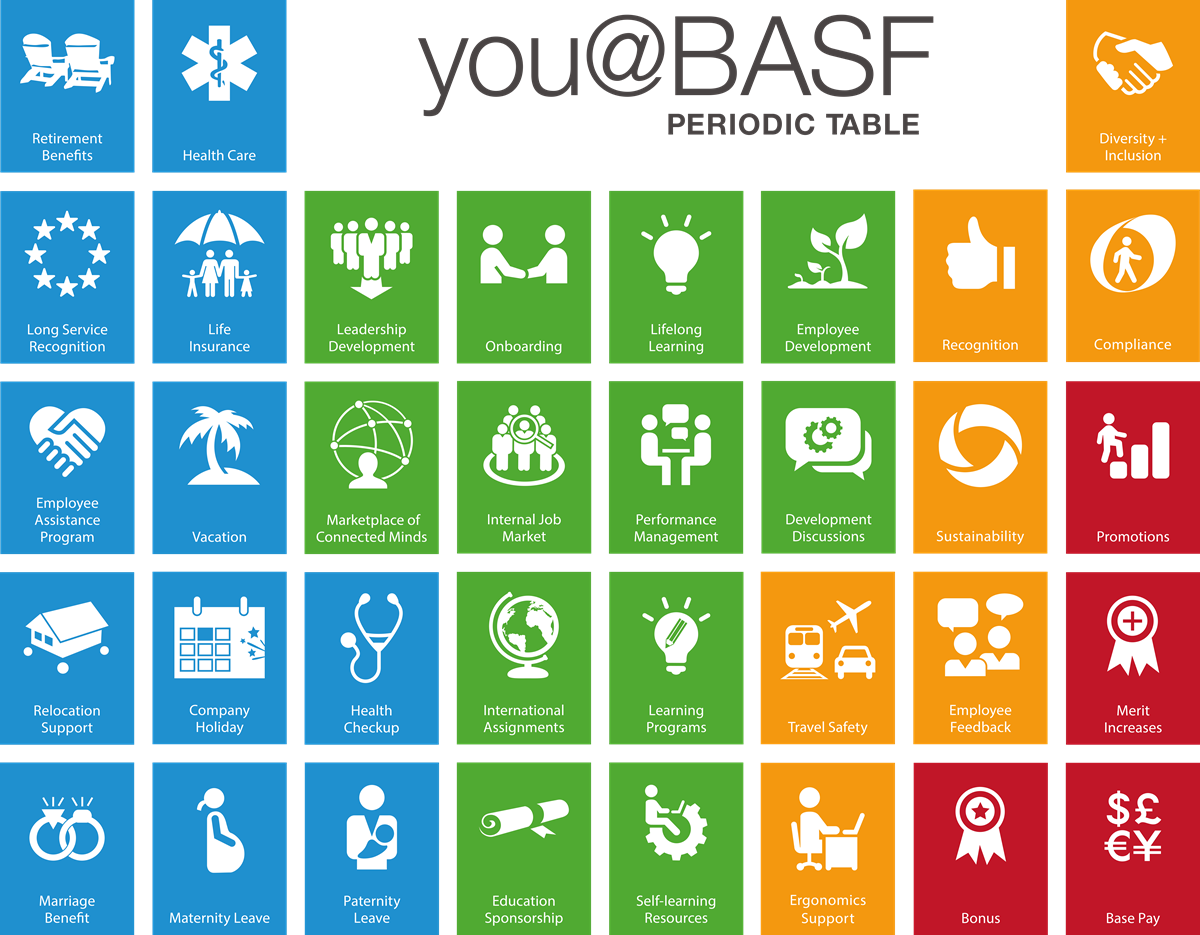 Working at BASF: We connect to create chemistry
We are proud of strong history of innovation, which has helped make us who we are today – the world's leading chemical company. Every day, our global team of over 117,000 individuals work together to turn visions for sustainable solutions into reality by connecting with one another and sharing our knowledge.
The right people are crucial for our sustainable success. We aim to form the best team by bringing together people with unique backgrounds, experiences and points of view. Our differences make us stronger and more vibrant. And an open, creative and supportive work environment inspires us to achieve exceptional results.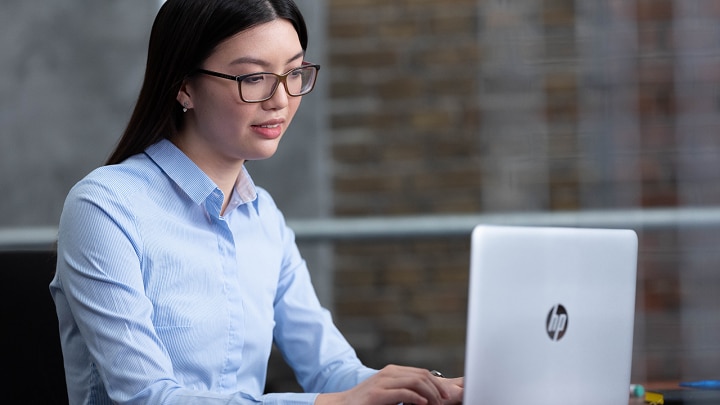 Your application
Here you find anything you need to know about your application and the application process.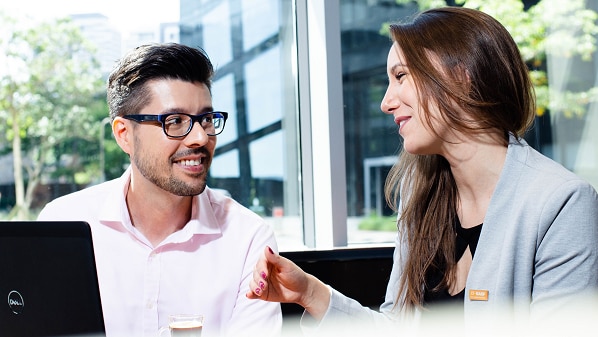 Contact us
You have questions about your application or on how to apply in Europe? The BASF Talent Acquisition Europe team is glad to assist you.
Please note that we do not return paper applications including folders. Please submit copies only and no original documents.
Information Technology/Service